We know that our "friend" mozzarella is also called like this because the names comes from the ancient gesture of "mozzare" the curd with the hands.
It was one of the excellences of our South, and for a good chunk of the history of Italy it was relegated to the role of local cheese.
On the other hand, today as then, it should be eaten very fresh, and since it could not be transported very far, it ended up being little known.
Mozzarella: protagonist on Svila frozen pizzas
The first historical testimonies want it on the table of the Pope himself in 1570, with its original name, "mozza".
It must have been particularly good, because over time it has become the great protagonist of endless recipes of our traditional gastronomy.
Eggplant Parmigiana, Pizza and Calzoni, Caprese, Mozzarella in Carrozza, Lasagna, Timballi, Panzerotti, are just some recipes that have white mozzarella as a fundamental ingredient.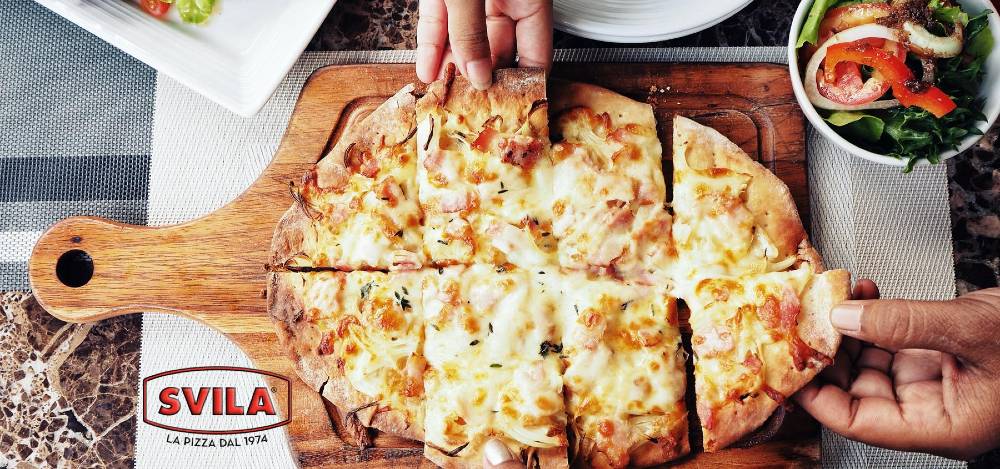 Here at Svila we know we must aim for quality because when the mozzarella is good, the pizza is superb.
The Pinsa Margherita Sfiziosa and the Special Margherita
To make things even better we have added a special preparation: the Pinsa Margherita Sfiziosa, is made, in fact with the addition of stracciatella di burrata another all-Italian delicatessen.
Since we cannot forget our lactose intolerant friends, for them there is a Special Margherita, with whole wheat flour and only 0.1% lactose.  In short, you know. We at Svila like to do things right.
Combining real quality ingredients from the Italian tradition makes our product so good.
Because the only way to understand if a pizza is good is to make sure everyone licks their fingers after eating it.  Trying is believing!